Liling cashes in on its colorful past
If there is any rival to Jiangxi's Jingdezhen, which is known as the "porcelain capital" of China, ithas to be Liling city, which has equally long history when it comes to making porcelain.
Liling, situated in eastern Hunan province, is sometimes referred to as a "state kiln" thanks to itsreputation as a place where porcelain was made exclusively for the nation's top leaders includingChairman Mao Zedong, from the late 1950s to the 1980s.
Liling has thrived for many centuries on ceramics.
At the start of the 20th century, a Liling-based porcelain factory developed the multiple-colorunderglazing technique, which was deemed revolutionary and has since had a wide-reachingimpact on the industry.
"The technique requires a very high firing temperature. The colors, protected by the glaze, willnever change once the piece is finished," says Yi Longhua, curator of the Liling New CenturyPorcelain Art Museum.
Yi, 48, has been a porcelain painter for more than 20 years.
An exquisite porcelain vase made using this technique won a gold medal at the 1915 PanamaPacific International Exposition held in the United States.
In 2008, the technique used in Liling underglaze-colored porcelain was listed as a nationalintangible cultural heritage.
However, the technique was almost lost due to frequent wars in China during the 1930s, until itwas revived thanks to the efforts of many experienced porcelain craftsmen gathered by thegovernment in the 1950s, says Yi.
In the following decades, top grade underglaze-colored porcelain produced in Liling wasdelivered to Beijing for national leaders, state banquets, and as state gifts.
By 1975, Liling had made more than 1,500 porcelain pieces, including tableware, tea sets andashtrays, for Chairman Mao. These pieces were referred to as "red porcelain".
Ding Huahan, 85, is one of the porcelain masters who has lived through the heyday of Lilingporcelain.
Ding learned to make porcelain from his father at 13. He later became a porcelain designer. Hewas one of the main designers for porcelain pieces made for the Great Hall of the People,Chairman Mao's Memorial Hall and the National Military Museum in Beijing.
Ding was among the workers who were part the project to make porcelain for Mao.
"But not many people, including me, knew that they were made for top leaders, as the projectwas secret," says Ding, who recalls his experience of traveling to Beijing to deliver the completedpieces.
Its history of making porcelain for top leaders has benefited Liling's porcelain industry byexpanding its influence, says Ding.
Over the years, Liling's underglaze-colored porcelain has seen many changes, says Ding.
"Different colors are being developed for underglaze-colored painting. The paintings and styles,and even the glaze earths, are changing," says Ding.
While only light colors were used earlier, Peng Ling, a 53-year-old underglaze-colored porcelainpainter, has developed her own style with strong colors.
"People's tastes are changing, and they have higher standards now. So we need to keepinnovating all the time," says Peng, who is a well-recognized porcelain designer in Liling.
Many designers like Peng are involved in nurturing talent among the younger generation.
Through mentoring, Liling has fostered a large group of young porcelain makers in recent years,according to Yi.
Yi's museum integrates tourism, technological development and training of the young.
Zhang Jiabing, a 26-year-old local who paints porcelain at Yi's museum, says: "Many people ofmy age in the city are joining the porcelain industry.
"The industry is developing very well. And I enjoy the work of painting porcelain."
Zhang decided to quit working at a painting studio in Hangzhou and return to Liling to doporcelain painting six years ago.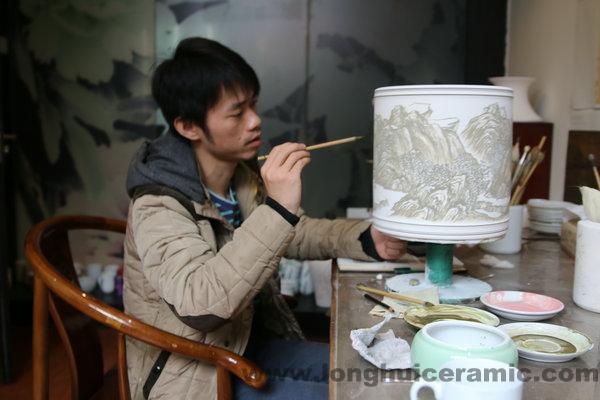 Zhang Jiabing paints porcelain at the Liling New Century Porcelain Art Museum. Zhang is among thegroup of young people who have joined the porcelain industry in Liling, Hunan province.
According to Yi, it typically takes years for youngsters to master the technique.
"Colors may change during the firing process. It's hard to control and you can only rely onexperience," Yi says, adding that painters have to become familiar with the process to producegood porcelain.
In recent decades, Liling's porcelain industry has experienced a boom.
There are now more than 660 porcelain enterprises in Liling; and about 220 of them have annualtotal turnover of more than 20 million yuan. Nearly 200,000 people, about one fifth of the city'spopulation, work in the industry, according to Zeng Wenchu, the director of Liling's bureau ofceramic industry.
Liling's porcelain is popular overseas, too.
In 2014, more than 3 billion pieces were exported.
Liling's porcelain is now exported to more than 150 countries, earning about $800 millionannually, says Zeng.
As Yi describes porcelain: "It is not only closely related to daily life in China, but it is also forcollectors."
Red porcelain pieces are prized by collectors
The "red porcelain" pieces produced in Liling have become famous and are collectors' itemsthanks to their historical background and very limited amount produced.
A set of underglaze-colored porcelain bowls - five pieces in total, which were made for MaoZedong by Liling's Qunli Porcelain Factory in the early 1970s, was auctioned for nearly 10 millionyuan ($1.56 million) in Hong Kong in 2013.
"The record-high price is evidence that the red porcelain pieces of Liling are popular," saysWang Lixin, who has been collecting such porcelain for more than 10 years.
Born into a family that has a deep connection to porcelain in Liling, Wang is one of the mostfamous collectors of red porcelain.
He has more than 100 pieces of red porcelain produced between 1958 and 1974, including arare tea set, which is identical to one used by Chairman Mao.
Many of the items he has collected are top quality and classic pieces, though he also has somethat have tiny imperfections, say Wang.
"But all of them have special value because of their history," says Wang.
The 50-year-old also has studied the history of red porcelain.
He often visits old masters in Liling to talk to them about experiences when they were part of theproject to make porcelain for the nation's top leaders.
According to Wang, each piece of "red porcelain" was carefully designed and repeatedlymodified before it was finally ready. They are the painstaking works of many porcelain masterstogether.
"The red porcelain represents the peak of Liling's art," says Wang, adding, "It's important torecord this history of Liling, instead of letting it die."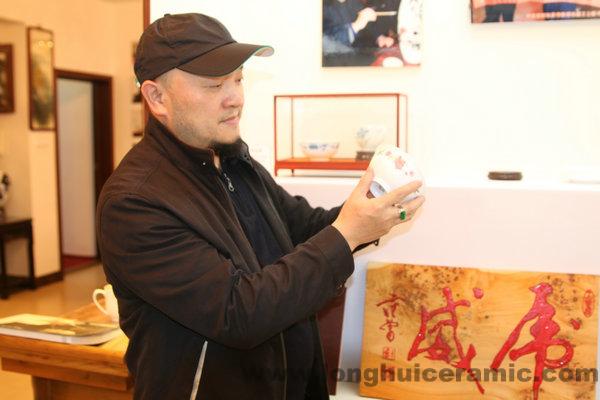 Wang
Lixin
shows
off
a
piece
of
'
red
porcelain
'.
He
has
been
collecting
such
porcelain
for more
than
10 years.
Source: http://www.chinadaily.com.cn